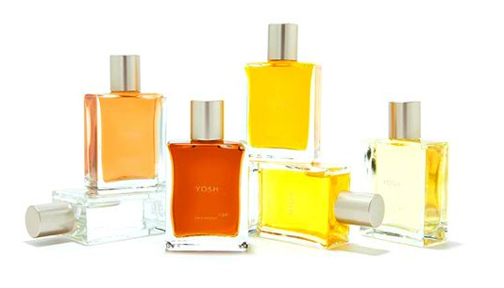 Discover YOSH! If you are looking for a perfume that is unique to yourself this is the brand for you!  The scents are breathtaking!  My personal favorite is Ginger Ciao. It's warm enough to be slightly sensual, but clean enough to be youthful and not overpowering.
The YOSH collection combines the art of perfumery with aromachology, the therapeutic properties of essential oils. Each multi-faceted scent is hand-crafted and blended by Yosh using the finest ingredients from around the world, then assigned a numerical value that corresponds to the fragrance family (such as floral, fruity, green, woody, and spicy) and resonates with principles of Chakra energy and numerology.
This collection is not just a sampling of scents — it's a full wardrobe of perfumes. Winter and summer scents have different weights and textures just as textiles do, and a sunny day scent has an entirely different appeal than a sumptuous evening perfume. But these scents do more than respond to changing climates — they also have the power to set moods, and capture passing fancies. Soft, sensitive moments call for a fragrance evocative of dreamy landscapes, whereas flirty, playful whims demand a scent that is enchanting and glamorous.
If you're not sure which scent is for you start with YOSH Perfumes Sweet Suite.  It's a fabulous collection of all 6 fragrances in sample size for only $30.  A wonderful way to spend time experimenting with each beautiful perfume to find the one that enhances your style perfectly!
Shop all YOSH here.